Broken Bow, Oklahoma, is the perfect place to buy a luxury cabin.
The city of Broken Bow is located in the southeastern part of Oklahoma, and it's known for its beautiful scenery and outdoor recreational opportunities. The city is home to many lakes, rivers, and hiking trails, making it a great place for nature lovers. It's also close to Texas, so if you're looking for an escape, it's the perfect destination.
At the heart of Beavers Bend State Park, home to Broken Bow Lake and the Mountain Fork River, there are plenty of activities to keep you busy, including fishing, hiking, golfing, and canoeing. And when you're ready to head back into town, you'll find a variety of restaurants and shops to explore.
For these reasons and more, people are discovering that Broken Bow, Oklahoma, is the perfect vacation destination to purchase a luxury real estate property. Whether you choose to use it as your private retreat or to rent out your house on Airbnb, it can be a worthwhile investment as Luxury cabin rentals in the area are in hot demand.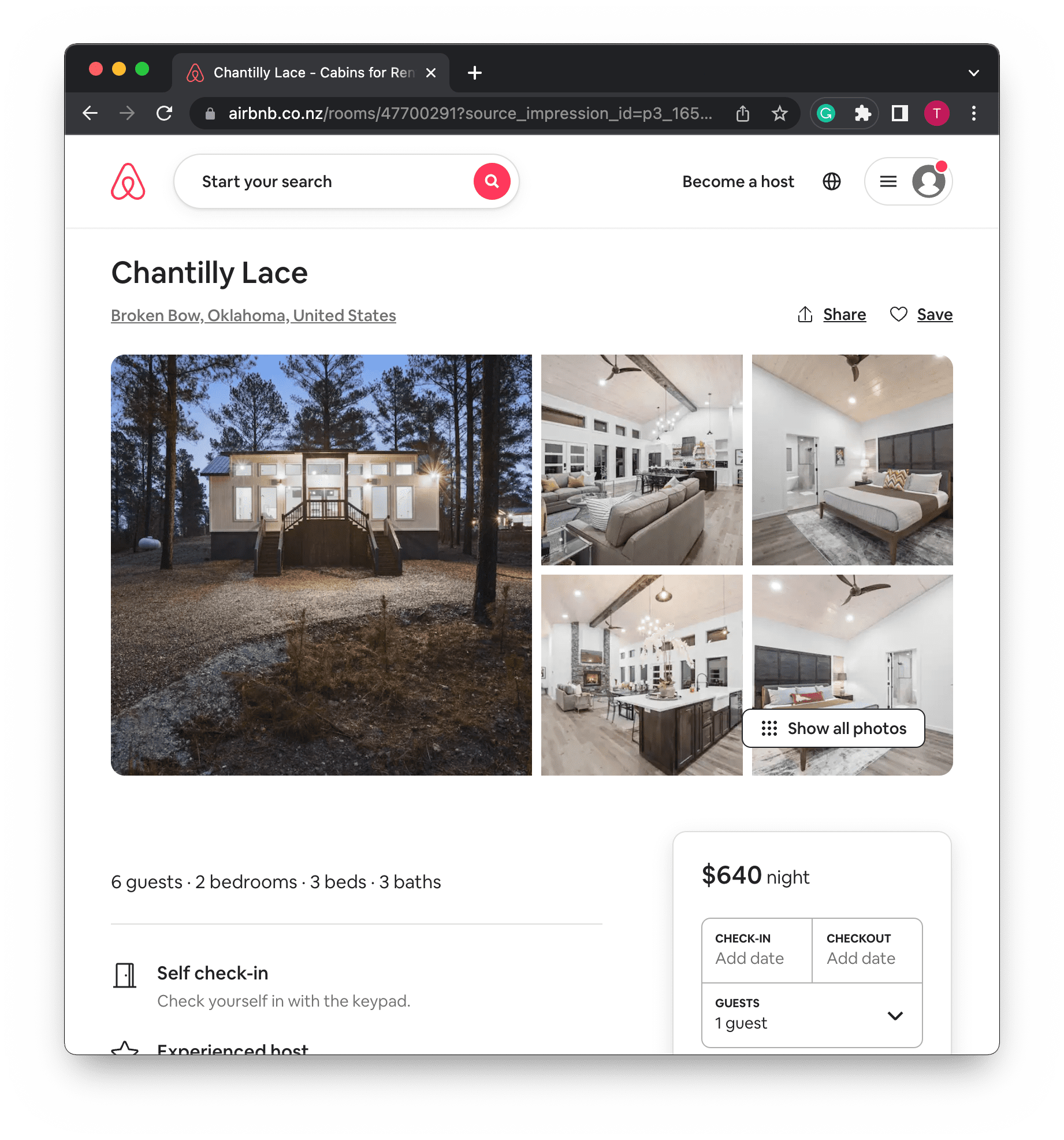 How much do luxury cabins cost?
Real estate prices for luxury houses in Broken Bow, Oklahoma, start at around $500,000. But depending on size and features, prices can range up to one or two million dollars.
The list price depends largely on the typical things you would expect: number of bedrooms, square footage, and features like granite countertops, and even a bay window or two.
And while home buyers may not be up for a spacious steam room just off the main house, many in the market are looking for modern comforts like an open floor plan, vaulted ceilings, and a main living space with lots of light the whole family can enjoy.
Can I finance a luxury cabin?
You may be able to finance your purchase through a mortgage, but it's important to talk to a lender beforehand to find out if you're eligible to sign. Mortgage rates for luxury cabins are typically higher than traditional home loans, so it's important to compare rates and terms before you start your search for Broken Bow luxury cabins.
What are the benefits of owning a luxury cabin?
One of the benefits of owning in Broken Bow is that you can enjoy the beauty of nature while having all the features of home. Luxury Broken Bow cabins are located in scenic areas, often on multiple acres, so you can appreciate being surrounded by nature while still having access to modern conveniences—often within walking distance to local restaurants and breweries!
Another benefit is that it can be a great investment. And once you settle into your new luxury cabin, you will discover a sense of peace and relaxation difficult to find in property elsewhere. And if you're looking to break into the luxury cabin rentals market, Broken Bow's proximity to Beavers Bend State Park, Broken Bow Lake, Mountain Fork River, and Cedar Creek Golf Course, make our properties stable investments that are sure to generate revenue.
What amenities come with luxury cabins? Can I expect floor-to-ceiling windows?
Broken Bow luxury cabins can be built to accommodate any of your preferences: from hot tubs and fireplaces to bright and spacious great room in the main living space. Luxury cabins in Broken Bow and near Beavers Bend State Park come in all shapes and sizes. Cabins for sale may have features like large windows with lots of light and lake, river, or forest views, a cozy fireplace, and acres of private forest.
The size of the space and how many bedrooms and bathrooms you need are the most important considerations when making your decision. Three bedrooms, four bedrooms, or even five bedrooms and three bathrooms plus an owner's suite and bath complete with a hot tub and fireplace, may be just right for a large family gathering, but if you are planning on living in the space, you may not need such a large property. Access to schools in the market and other facilities nearby may need to be part of your decision-making process if you are looking through listings of homes for sale.
Amenities will vary from house to house, but you can expect most Broken Bow luxury cabins to have a large entrance, a rich and spacious interior, a fireplace that sits on the main level, floor-to-ceiling windows, hardwood floors, vaulted ceilings, and a beautiful owner's suite bath.
Listing features may also include a hot tub bath or spa, game room, spacious deck, multiple floors and guest rooms (some with their own fireplaces), or even a wine room or living wall. If you can dream it up, we can make it happen!
Do I have to buy a log cabin?
Log cabins are great, but no. While some prefer curling up next to the fireplace in the great room of their custom-built log home, your luxury property does not need to be a traditional log cabin on one acre with an outdoor bath!
How do I purchase property in Broken Bow?
The team at Eagle Mountain Land and Development builds beautiful cabins, complete with custom-made features that accommodate your unique needs. So embrace your dreams of sipping coffee on your upper-level balcony in the morning, building a killer game room, and staying connected to work with a high-tech office—or even a log cabin that sits in countless acres of evergreen forest—because we will work with you to make it happen.
And whether it sits on one acre or ten, we'll find the perfect balance between privacy and proximity that fits your needs.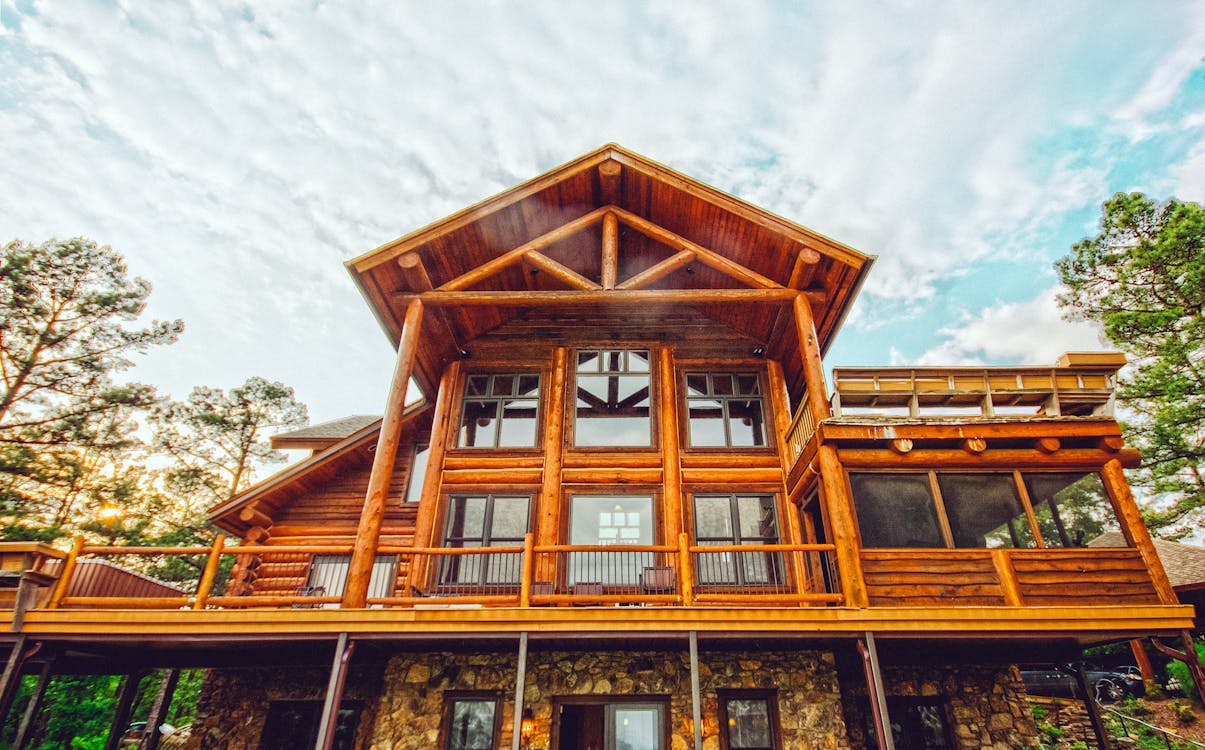 The area has plenty to offer.
In terms of outdoor activities and stunning landscapes, the city of Broken Bow and Beavers Bend State Park are perfect for nature lovers and those who want to get away from it all.
Are there any good fishing spots around Broken Bow Lake?
Broken Bow Lake is known for its clear waters and excellent bass fishing. There are also catfish, crappie, and sunfish in the lake. So, whether you're an experienced angler or just getting started, you won't struggle to get a bite. If you prefer river fishing, you can also take advantage of the Mountain Fork River, which is known for its healthy population of trout.
What are some of the best hiking trails in the area?
There are plenty of great hiking trails located in the area. One of the most popular places to hike is through the trails in and around the 3,482 acres of Beavers Bend State Park. Trails range between one and twelve miles with hikes that wind through forests and alongside rivers and Broken Bow Lake.
What are some of the best places to eat in Broken Bow?
There are plenty of great places to eat in Broken Bow! If you're looking for some down-home cooking, be sure to check out Shady Oaks Restaurant. For something with live entertainment, try the Hochatown Saloon.
What is the best time of year to visit Broken Bow?
Local residents say that the best time of year to visit Broken Bow is in the fall when the leaves are changing color and the weather is cool and comfortable. The town is also busy with tourists during the summer months, so if you're looking for a quieter experience, autumn may be a better time to visit.
What is there to do at Beaver's Bend State Park?
There are tons of activities to enjoy! Hiking, fishing, golfing, and swimming are just a few of the options. There is also an amphitheater on-site where you can enjoy live entertainment during the summer months. You can also rent boats and paddleboats to explore the beautiful Broken Bow Lake. Regardless of how you choose to spend your time at Beaver's Bend State Park, you're sure to have a blast!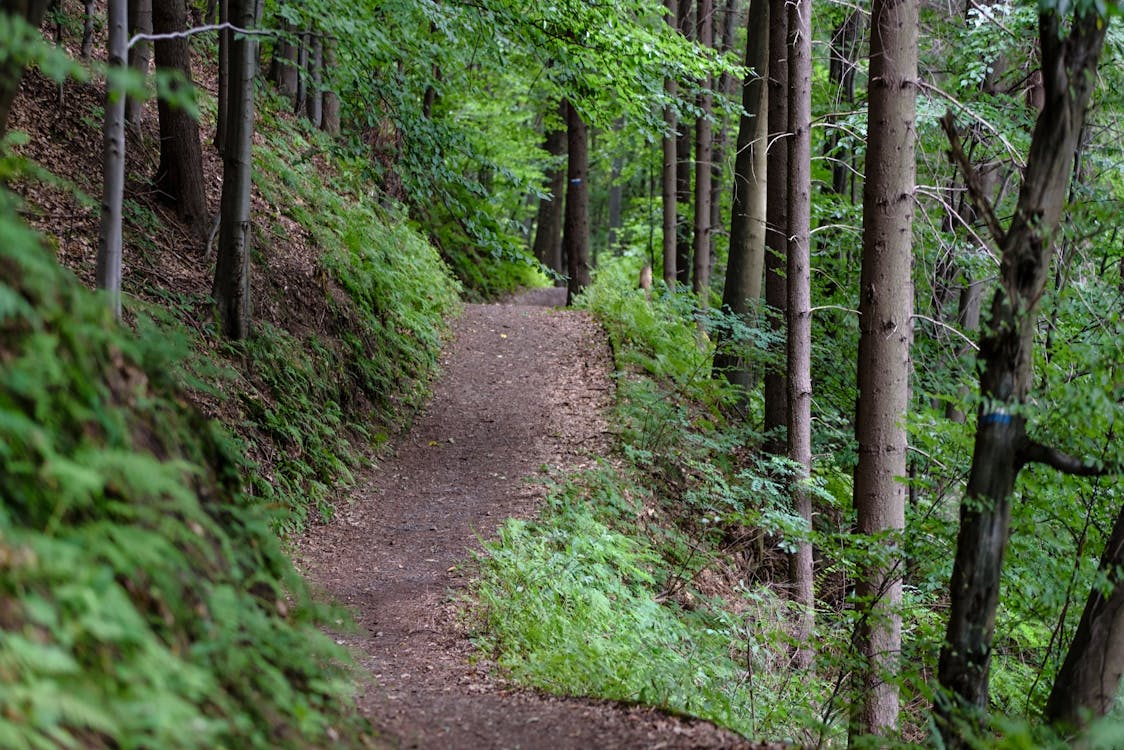 If you're looking for a luxurious cabin retreat, Broken Bow should be your top pick!
Broken Bow is the perfect place to purchase luxury cabins. The area offers plenty to appeal to nature lovers, and there are plenty of activities available in town. If you're looking for a luxurious cabin getaway, put Broken Bow at the top of your list!
We love Southern Oklahoma and know you will too. Eagle Mountain Land and Development specializes in unique properties that represent both the beauty and tranquility of the Broken Bow. Additionally, we represent the future of luxury cabins in the area and help our customers take part in the explosive growth of this incredible region.
The team at Eagle Mountain Land and Development is dedicated to providing our clients with the best possible experience. From initial consultation to final closing, we'll work tirelessly with you to ensure that you are well taken care of.